24 Reasons Kobe Should be the new NBA Logo
This isn't meant to demean or detract from ANYTHING ANY other players have contributed to the game of basketball. This is one man's opinion that I feel a lot of people will share.
Please take the time to hear my fair perspective on Kobe Bryant. The Basketball Player (#8), the Mentor, the Role Model, the Basketball Player (#24), the Accused, The Exonerated, The Businessman.
The MambaOnThree Fund was created to honor Team Mamba's mantra, "Mamba on Three." It's with that customary chant for togetherness, sisterhood and the ability to take on every challenge that this Fund was named.
The MambaOnThree Fund exists to honor and support loved ones of the seven other victims involved in the tragedy that occurred on January 26, 2020. All donations to the Fund will be directed to their families.
Alyssa Altobelli
John Altobelli
Keri Altobelli
Payton Chester
Sarah Chester
Christina Mauser
Ara Zobayan
#1 Kobe was GLOBALLY Popular
He may have been more popular in CHINA than in the US #globalmamba
#2 Kobe Scored the 2nd MOST POINTS, EVER in an NBA Basketball Game
Wilt Chamberlain scored his 100 points on 36 of 63 shots (57%) from the field, while Kobe shot 60% on 28 of 46 from the field. #mambaefficient. 17 FEWER SHOTS 🤯#justsayin #kobeshot17less
If Kobe shot the SAME 60% on those 17 UNATTEMPTED SHOTS, 2 pointers ONLY he would have scored 10 more baskets. totaling 20 MORE POINTS. Kobe COULD HAVE Scored 101 points.
Seriously! We've left out the potential for 3 pointers and free throws. We've just left the 60% shooting percentage as the constant. #thatmambatho
#3 Kobe was not Self-Aggrandizing
LeBron James said winning the 2016 championship with the Cleveland Cavaliers made him the greatest NBA player of all-time. #mambahumility
"That one right there made me the greatest player of all-time," James said. "That's what I felt."

Lebron James
#4 He didn't personally attack teammates…
Kendrick Perkins vs. Kevin Durant. I hope this can be water under the bridge for these 2 guys. In fact, I think they've actually reconciled by the time I've written this.
Kobe Bryant's passing has inspired MANY to bury the hatchets…#mambamending
#5 Kobe was accountable to those he owed no explanation.
He made mistakes in Colorado…
Kobe took the stage, with his wife, and gave his apologies, tears, and vulnerability to the world. He didn't owe us that, but he gave it to us anyway.
He messed up with Shaq…
Kobe was about 25 years old when he made comments that may have "outed Shaq". Young, likely angry, and a more immature Kobe.
On Wednesday, O'Neal dismissed as "ridiculous" Bryant's allegations that O'Neal had paid up to $1 million in hush money to various women and then took his own shot by saying, "I'm not the one buying love."

2004 Comments reported by ESPN
Shaq ended up forgiving Kobe for those transgressions.
"There never was a hatchet. I'm not worried about that," responds Shaq. "That's something that happened and I didn't think it would've gone on, but there was never a hatchet. As a leader, sometimes you gotta do certain things, like, if I owned The Daily Beast and you came back with a bad article and I know your potential, I'd be like, 'That's some bullshit,' and you'd either punk up and quit, or say, 'Oh, it's bullshit?' and write a better piece. It was my job to get everyone to play at a high level. People want things to go perfectly, and if you really look at it, three out of four championships is pretty perfect. I'm glad and honored to be the most enigmatic, controversial, and dynamic one-two punch in Lakers and NBA history."

Daily Beast Article – Marlow Stern 2016 (2017 Updated)
#mambamaturity
#6 He stood up to ANYONE
He stood up to The Lakers, by demanding a trade.
Shaq – you should work harder
"He'd be the greatest of all time," Bryant said. "He'd be the first to tell you that. This guy was a force like I have never seen. It was crazy. Generally, guys at that size are a little timid and they don't want to be big. This dude did not care. He was mean, he was nasty. He was competitive. He was vindictive. I wish he was in the gym. I would've had f—–g 12 rings."
CBSSports.com Chris Bengal Article
#themambastandard
#7 He WAS NOT 'Anointed' with a nickname…
#makingofthemamba
#8 He preferred basketball over partying or hanging out
That doesn't make him better or worse than any other player. It just makes shows his CHOSEN LEVEL of COMMITMENT.
#mambamethod
#9 He could PIVOT and REDIRECT his unique SELF STANDARDS to other areas…
Oscar Anyone?! #mambamisdirection
Venture Capital
#10 Kobe Overcame his Physical Disadvantages
While he was 6'6" and a giant amongst men of the average height of 5'8". Kobe was not physically gifted, compared to one other great…
Michael Jordan had a 48" Vertical and Kobe had a 38" vertical.
Gilbert Arenas had a quote…
"The Debate…Who's Better?!?! we have to break down the two players..ALL Stats and rules removed….you have a (self-made man) #KOBE standing at 6'6 with a 38 inch vert..a work ethic of a Man who seemed #Machinelike…the basketball IQ of pure genius…the confidence of a man who ruled this planet….these type of ppl comes around every 10 years….#mayweathers #jerryrice #michaeljohnson…Now u have the (freak of nature) #JORDAN standing at 6-6 with a 48 inch vert…a work ethic of a #AlienLifeForm…" Full Article

Gilbert Arenas – Reported by Ross Pickering/Lakerholicz.com
#mambamastery
#11 Kobe Wasn't The…
Most Dominant – but he DOMINATED!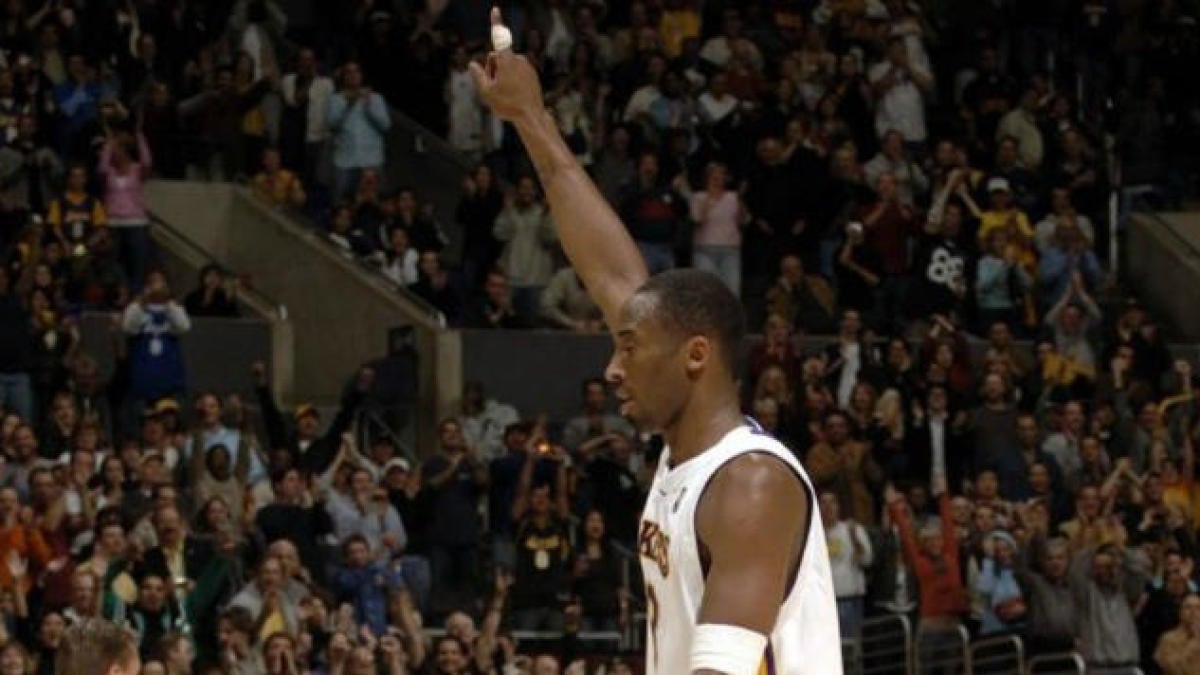 Richest – BUT HE HAD PLENTY
The Most Stylish – but he had "SWAG"
Best Dunker – but he was the "SLAM DUNK GIANT"
Most Winning
Most Scoring – but he made it to #3
Or The Least flawed 😭
Yet he somehow put together his body of work, in fewer years, and in less LIFE than any before, or likely after him.
#12 Kobe's Practicality is This ='s That.
I'm not as good a shooter as you are – so I'll shoot 2000 more shots to make up for my deficiency.

Something Kobe probably thought…
"At the beginning of my last season that's when I started writing," Kobe said during a recent interview. "That's when I started really executing what was going to come next. Having four daughters at home it was like, 'I need to create content for my children.'"

Kobe Bryant – bckonline.com
I want THIS, so I'll do THAT.
#MambaMentality
#13 Current players GREW UP Watching and Studying Him
The generation He inspired is literally on the court now.
#14 He took ACTIVE OPPONENTS under His wing.
#mambamagnanimous
#15 Kobe had UNEXPECTED talents and gifts.
Fluent in Spanish and Italian.
#mambamastery
#16 Kobe brought unsolicited advice to players WITHOUT them asking.
ESPN's DETAIL From the mind of Kobe Bryant. Who on earth spends the time to break down the game film on a rival team, from a rival player, from players he used to compete against.
#mambaministry
#17 Kobe was Humble
Hey Kobe…Who do you think is the best player ever is?

A Million Reporters asked…
Kobe responded…in so many words
'I'll let the debate on who is the greatest ever be had by others.'

Kobe – #highroad – Refusing to engage…
He basically didn't say he wasn't or wasn't the greatest player ever. But he didn't concede either #higherground
#mambamodesty
#18 Kobe Always Wanted to WIN NOW
#mambaonamission
#19 20 Years Loyal to 1 Organization
The Laker Family
He did demand a trade if players weren't brought in.
For a short time, he felt like the organization wasn't willing to do what needed to be done to WIN NOW
But he stayed…A LAKER
#mambatruetotheend
#20 Kobe played ACROSS 2 Awesome Basketball Eras
Being an All-Star when HAND CHECKING was allowed, and remaining an All-Star when "Lob City" was a place you could visit with the "Splash Brothers". Only Kobe was able to succeed and flourish across eras.
#mambalongevity
#21 Kobe would look GREAT as the Logo
#mambalogomakeover
Honestly, he will inspire me FOREVER to be BETTER TODAY than I was YESTERDAY. #mambamentality
#mambamoveon
#23 A father, that fathered
I was listening to the Adam Carolla podcast and, if memory serves, Kobe said something about what initially got him to begin taking a helicopter to the Lakers Practice Facility.
"Traffic (in Los Angeles) started getting really bad. I was sitting in traffic and I ended up missing, like, the school play because I was sitting in traffic. And it just kept mounting," Bryant said.
"So that's when I looked into helicopters, and I was able to get down and back in 15 minutes."
"My routine was always the same. Weights early in the morning, take the kids to school, fly down, practice like crazy, do my extra work, media, everything I needed to do, fly back, get back in carpool line, pick the kids up."

Full Article Thespun.com
What a choice…What a father.
#mambamasculinity
#24 He is no longer with us now…
Kobe should be forever immortalized. He represented the NBA, the world, diversity, inclusion, humbleness, fatherhood, balance, structure, empathy, ambition, and hard work.
Kobe will never get to physically walk into the hall of fame…
Every quality, the NBA tried to represent, was manifested in only a few people. Possibly none, bigger or better, than Kobe Bryant.
Kobe lived his life honorably, and on his own terms. Terms that any organization would find admirable and aspirational. Who better, than Kobe, should represent the NBA forever.
#maintainthemamba
A Letter for Vanessa Bryant
Dear Vanessa,

I don't know you, and I did not know your husband, but I watched him, closely, for over 22 years. He got me into basketball, inspired me to coach, and attempt things that are and were most certainly out of my reach.

He gave me the confidence, to pursue what appeared to be impossible. I'd seen him attempt and succeed at this feat so many times. So, I thought, 'why couldn't I'?

Your Husband inspired that in me…

You guys got married almost 20 years ago. You were married for most of his professional career, and I know that he would not have been able to achieve all that he did without your support.

All that He was likely able to do for me, was most certainly inspired by all you did for him. Vanessa, THANK YOU.

I'm sure that the mother you are likely brought so much peace to his life, that enabled him to focus so intently on his craft. You undoubtedly know of the many ideas that might be left undone by your husband, but I'm sure that makes YOU even more dangerous!

Anyways, I know your influence likely went much farther beyond being the 'mother of Kobe's kids'.

I know you had a hand in a lot more than people might expect you did.

You've had to spin many plates while manage the lives of your family. You've likely had to pick up your husband when he was down, soothe your daughters when he was away on business, all likley while keeping yourself UP. A large task indeed, but one you were obviously up for. There are a lot of people in the world that KNOW you are much more than the Wife of a Basketball Player. I'm one of them.

Many people are praying for you, and I'm personally looking forward to watching what you accomplish moving forward. Please continue to be strong for your daughters and yourself. This is all you can do with the cards you've been dealt. Life simply is not fair. I am so sorry for your losses.

Lastly, your poise has been uncanny. Thanks for making sure that the other families that were affected by the same tragedy are not forgotten, and supported.

The Bryant's are very good people, and the world is in very good hands with you 4 Mambacitas in it!

Justin McKnight – @reasonabledose – #TheBryantsBiggestFan